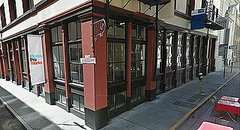 Julia Millay Walsh

| October 26, 2011 2:20 pm
Cult fave Cow Hollow Pilates studio Pilates ProWorks, which also has locations in New York and Bogotá, is expanding to the heart of the Financial District! Pencil some midday workouts into your work week: the new studio opens its fourth location next Tuesday, Nov. 1, at 215 Leidesdorff St. If you're not familiar with the studio, the method is a fusion of traditional Pilates, cardio, and strength training on its custom-designed reformer machine, Fit Former.
Read More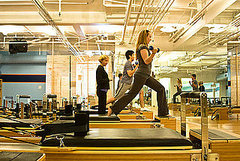 Nancy Einhart

| December 14, 2010 1:34 pm
The reformer gets reinvented at Pilates ProWorks, a sleek and stylish studio where upbeat music by the likes of Lady Gaga and Phoenix provide the soundtrack to personalized Pilates, barre, and TRX classes. Using an upgraded, more versatile apparatus known as a FitFormer — which allows for stronger muscles, smoother exercises, and less impact on the joints — each 55-minute Pilates Pro class fuses core practice with traditional fitness moves like lunges, shoulder presses, and cardio elements for an all-around workout. Better yet, each class has no more than 10 people, so everyone gets her own FitFormer and plenty of attention.
Read More