Tupelo North Beach, San Francisco
A Q&A With the Duo Behind Tupelo, North Beach's New Deep South Bar-Restaurant!
Next
A new Southern-themed restaurant and bar, Tupelo, opened last week in the former Mojito space in North Beach at 1337 Grant St. I recently caught up with co-owner Derek Mattson and manager Teague Kernan to hear about what's in store for the spot. From mouthwatering dishes like Creole shrimp and grits, a cozy vibe, and live music on the horizon, there's no question it'll be a hot spot in time. Read our interview below to learn more about Tupelo!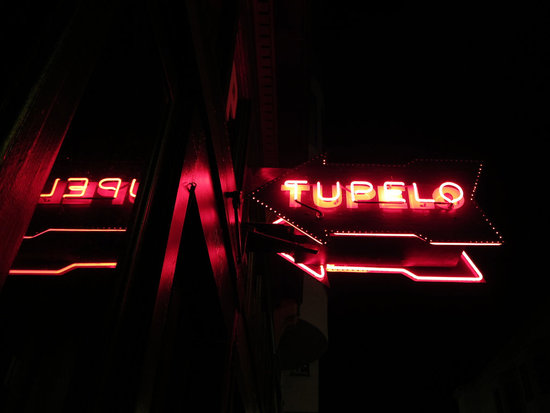 PopSugar SF: What's the backstory behind this? How did the two of you come together to open Tupelo?
Derek Mattson: Teague and I have known each other for about 15 years. We've probably been talking about opening a place for 14 of them. We started thinking about it more seriously a year ago and looked at several potential locations/venues. None of them felt right from a neighborhood standpoint or one that felt like it would live up to our vision for Tupelo. When we heard that Mojito was going on the market, we felt that it was the perfect space for what we wanted. Big space, full kitchen, entertainment (at least it was).
PS SF: How did you settle on the location? Were you eyeing North Beach from the start?
Teague Kernan: As Derek mentioned, we looked at several locations prior to Mojito coming on the market. I am also a musician and have probably played at Mojito 100 times over the last seven years. We wanted (and still want) to continue the great legacy of live entertainment that has existed here for over 50 years. Janis Joplin played her first San Francisco gigs here, and Steve Martin began his stand-up career here. The list is very long of great entertainers who have played here, and we hope it will continue to grow once (if) we can get our entertainment permit.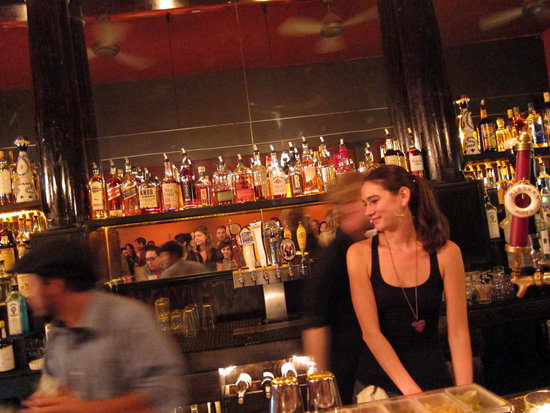 PS SF: Teague, I know you're a former Buccaneer (2155 Polk St., 415-673-8023) bartender . . . What's essential to a great bar?
TK: It is not terribly difficult to build a good bar. It takes a varied selection of libations, ambiance and interesting decor, prompt service, and cleanliness. To make a great bar, you need an intelligent, engaging staff. That, in my opinion, is the single most important element in making a bar "great." That is what keeps people coming back.
PS SF: I'm a New Orleans expat, so I'm psyched to see some more Southern cuisine in the city! What made you decide on this menu? Are either of you from the South?
DM: Given that we were setting up shop in North Beach, right next to an Irish Pub, we wanted to put a place together that was uniquely American. The name Tupelo evokes the Deep South, but also has a rich musical heritage (i.e., birthplace of Elvis; Van Morrison, Nick Cave, and John Lee Hooker have all made songs about Tupelo). Soul food was the perfect fit.
PS SF: What item are you most excited about on the menu?
DM: Personally, I think it's one of the best burgers in the city. The shrimp and grits dish is great (as are the other grits dishes). Po' boys — also outstanding. Iceberg Wedge with "bacon croutons" (not actually croutons – but definitely bacon). Very interesting selection of soul food tapas (appetizers).
TK: Being from the Northeast, I am partial to the chicken wings. They are legit. Also the roast garlic and brie mac 'n' cheese is pretty ridiculous.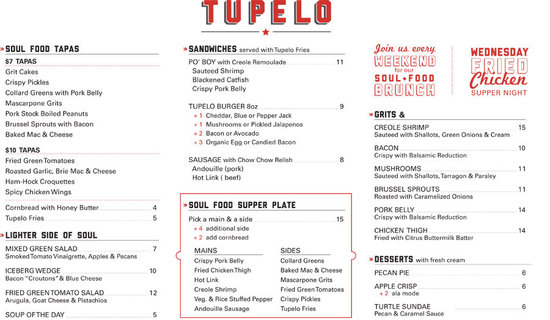 PS SF: Anything special about "Tupelo fries"?
TK: They are waffle fries. Our chef, Mark Danziger, thought they would be a nice twist on regular french fries, as they are similar to Chick-fil-A fries. I would have to agree with him.
PS SF: What in-house beer pairs best with a blackened catfish po' boy?
DM: Lagunitis IPA for sure.
TK: If you want to really get in there, the Samuel Smith Taddy Porter.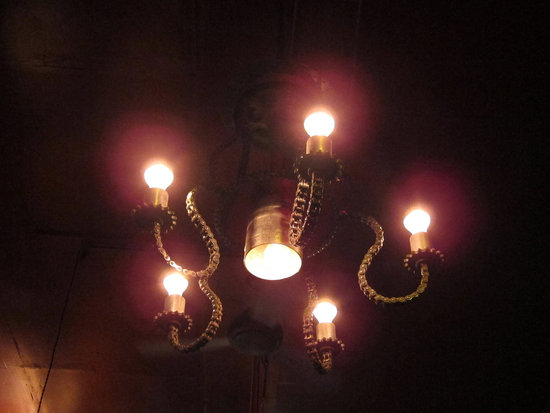 PS SF: What's in store for your soul food brunch? Any dishes not on your normal menu? Any bottomless drinks?
DM: Our brunch menu is separate from the normal menu (most of which are also available during brunch hours). It's packed with interesting items: roasted poblano cheddar apple pancakes, Creole hash (pork belly, shrimp), ham-hock scramble, crayfish omelet, and of course, the Tupelo breakfast.
TM: We do not have any bottomless drinks at this time, but I'll talk to the staff about topless ones.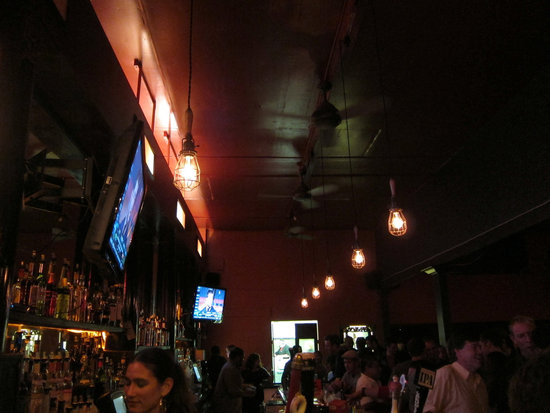 PS SF: I know you're working on getting an entertainment license for live music. What kind of bands will you be booking at Tupelo?
DM: Hopefully, we'll get through the city processes to get entertainment. If so, we plan to book top local talent focused on blues and rock. Teague, as you might know, is a well-known rock and blues musician and fronts a band called Shantytown. Music will definitely reflect our own tastes as well as the vibe of Tupelo.
TK: We also plan on bringing in some great national acts including our friends from your neck of the woods, Rebirth Brass Band — hey, wait, they are acoustic, so maybe we can still do that. And the five people in San Francisco that want to kill the great legacy of San Francisco as a city of music, arts, and entertainment can suck on an organic Tupelo egg. I'm sure Mark would be happy to prepare it to order.
PS SF: What are some of your favorite spots in the neighborhood?
TK: This neighborhood has so many great spots — that's a very difficult question. All of our neighbors have been extremely welcoming and supportive. We have been trying to do the same. I had a great dinner at Sodinis (510 Green St., 415-291-0499) last night, and being my first night "almost" off in some time, I popped into Amante (570 Green St., 415-362-4400) for a great lounge act, then North Star (1560 Powell St., 415-397-0577) for a beer, Specs (12 William Saroyan Pl., 415-421-4112) for a cocktail and some great piano playing, and then ended up back "home" at Tupelo. I couldn't ask for much more. We are very happy and proud to be a part of the North Beach community, and we are loving the diversity here. I hope people feel the same about our little spot at 1337 Grant Ave.