Three Indie Holiday Fairs in San Francisco
3 Holiday Markets You Don't Want to Miss
Next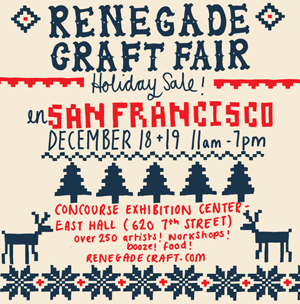 Bored by the prospect of circling Union Square until gift-giving inspiration hits? With so many awesome gift shops and indie holiday fairs coming up, you shouldn't have to set foot in a chain store if you don't want to. Here are my top three picks for holiday markets to hit up — two this weekend and one perfect for procrastinators.
Saturday, Dec. 4: Rock your socks off at the fiercely local Noise Pop Holiday Shop (Verdi Club, 2424 Mariposa St., 415-861-9199), featuring live music and DJs, wares from more than 35 Bay Area artist and designers, and a full bar. Be sure to bring a few cans of food to donate to the San Francisco Food Bank. Noon to 5 p.m.
Sunday, Dec. 5: The Remodelista Holiday Market (SummerHouse Warehouse, 250 E. Blithedale Ave., Mill Valley) will showcase some of the chic remodeling blog's favorite local brands, including Rough Linen, Fearless Chocolate, Studio Patro textiles, Erica Tanov clothing, and much more, plus shipping and gift wrapping on site. 1 to 4 p.m.
Saturday and Sunday, Dec. 18-19: Last (minute) but not least, the roving Renegade Craft Fair Holiday Sale (Concourse Exhibition Center East Hall, 620 7th St.) barrels into San Francisco, featuring more than 200 indie crafters of homewares, jewelry, clothing, bath products, stationery, and more. It's like an in-person Etsy, with booze and workshops to boot.