Slow Club San Francisco
Sit Back and Eat Up at Slow Club
Next
In a city that chooses cutting-edge over custom, the nearly 20-year-old Slow Club (2501 Mariposa St., 415-241-9390) shows no signs of slowing down. In fact, if you stumbled upon its vintage-looking exterior in the Mission's most eastern stretch, you'd be forgiven for assuming it's new.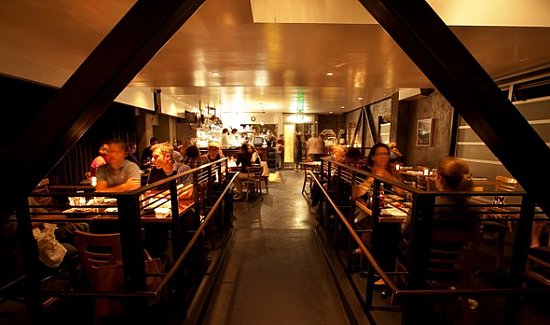 Concrete floors and walls cement its industrial feel, but candlelight exudes warmth — a welcomed sight on the otherwise desolate corner of Mariposa (between 17th and 18th) and Hampshire. The dinner menu is a fixed framework of soup, salads, grilled flatbread, pasta, and hearty meat dishes, but rotating, seasonal ingredients reinvent it regularly. Small ingredient edits are made nightly and weekly (check its menu before you go) while major dishes change with the seasons.
The grilled flatbread can right a long day, and its ingredients vary more than any dish on the menu. The latest incarnation is topped with caramelized onions, roasted apple, smoked pancetta, and sheep's milk mozzarella. If you approve of the toppings, it's hard to go wrong, and Slow Club makes it seem impossible.
Brunch is more fixed than dinner but no less delicious. I'm incapable of ordering anything other than the turkey sausage hash. The colorful concoction of butternut squash, Yukon gold and sweet potatoes, caramelized onions, and apples topped with poached eggs, arugula, and cheddar will leave you carbohydrated after a long night out.
Whenever you go, steal a seat at the bar for your meal. The cocktails show imagination (if only the Earl Grey martini would be resurrected), and the bartenders tend to you like you're their first and last customers — always well paced but never slow.
Source: Slow Club