San Francisco and Bay Area Pumpkin Patches
Gourd's Gift: 3 Bay Area Pumpkin Patches
Next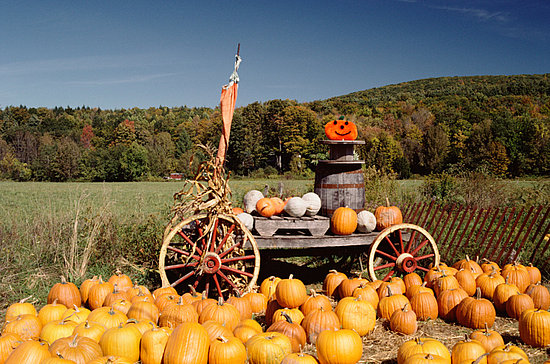 Halloween is upon us, and if there's not a pumpkin propped at your doorstep and a jack-o'-lantern lit in your window, it's time to get in the spirit! Sure, you can get your gourds at Safeway, but where's the fun in that? Visit one of these three Bay Area pumpkin patches and do your shopping the old-fashioned way.
The "city-style" Piedmont Avenue Pumpkin Patch (4414 Piedmont Ave., 510-967-9363) in Oakland, open daily from 8 a.m. to 8 p.m., is a petite one, but it's got all the scary knickknacks and carving supplies that a little pumpkin-hunter needs.
Clancy's Pumpkin Patch (1620 7th Ave., 415-753-2689) in the Inner Sunset is open daily from 9 a.m. to 10 p.m. and has almost an acre of pumpkins in all sizes and shapes, including mini pumpkins, Sugar Pie pumpkins, Cinderella pumpkins, and blue, white, and striped pumpkins — plus gourds, corn stalks, and Indian corn!
Speer Family Farms (5600 Christie Ave., 510-705-2352) in Emeryville, open from 10 a.m. to 9 p.m. daily, has a large selection of pumpkins, Indian corn, and gourds, as well as hay, cornstalks, and Halloween decorations. Plus, the fun stuff: there's a petting zoo, a hay maze, a jumpy house, a 27-foot slide, a picnic area, and a kiddie play area!