SF Thanksgiving Turkey Cassoulet Recipes
Thanksgiving Recipe: The Whole Beast's Holiday Turkey Cassoulet
Next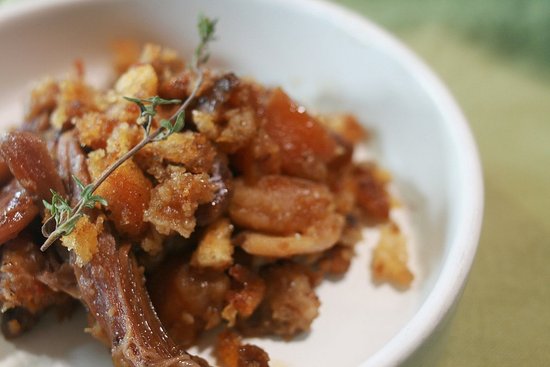 Chef John C. Fink's SF-based snout-to-tail catering company The Whole Beast, which specializes in whole-animal menus cooked for private gatherings, has got you covered this Thanksgiving with a mouthwatering holiday turkey cassoulet! Cooked long and slow, the delectable dish is composed of Willie Bird turkey confit, turkey cranberry sausage (yum!), braised dark meat, and heirloom beans. If you don't feel at home in the kitchen, you can order the almost-one-meal dish for your Thanksgiving fete and pick it up or have it delivered; cost is $42 for a serving of six or $54 for a serving of 10 — totally a steal! — and an additional $75 or $200 if you want it to arrive in a fancy Emile Henry Cassoulet pan to keep. Just call 415-816-1414 or email thewholebeast@gmail.com to arrange your order!
If you're a take charge kind of gal (or gent), and relish the tradition of holiday cooking, rejoice! Fink has shared this special recipe with us, so you can create it in your own kitchen.
Ingredients
1 whole turkey
1lb. of Rancho Gordo snow cap beans
1lb. of Rancho Gordo Christmas lima beans (soak beans in water to rehydrate at least 24 hrs in advance)
Turkey sausage with cranberry and clove (see recipe below)
Turkey confit-leg and thigh (see recipe below)
Braised turkey thigh (see recipe below)
1 gallon turkey stock (see recipe below)
2 onions
4 stalks celery
9 cloves of garlic
1 lemon, zested
Fresh bunch of sage
Fresh bunch of thyme
Fresh bunch of oregano
2/3 lb. of pork belly and/or bacon
Directions
Cook Christmas limas and snowcaps in separate pots after hydrated in 1/2 turkey stock 1/2 water with one bay leaf until just about done.
Chop herbs and set aside.
Small-dice onions, celery, and garlic.
Sweat off dice onions, celery, and garlic together.
Use a deep dish casserole dish and line the sides with pork belly or bacon
Line the bottom with one layer of each bean and cooked vegetables, then place the turkey sausage, turkey confit, and braised turkey leg sporadically in the casserole dish.
Cover with the rest of sautéed vegetables, beans, lemon zest, and herbs, and add stock just to cover.
Cover with lid and bake in oven at 325 degrees for 1.5 hours. Check to make sure level of liquid is not too much and not too little; add or take away liquid as necessary (should be a small amount of liquid but beans should not be swimming).
Let sit and cool, reheat to order.
Stock Recipe
Debone turkey. Make a stock with bones, necks, giblets, and turkey wings (brown/roast 1/2 bones). Stock includes celery, carrots, onion, garlic, and a couple sprigs of sage, thyme, and oregano, and black peppercorns.
Turkey Sausage Recipe
Ingredients
Combination of 1 1/4 Dark &1/3- 1/2 lb light meat with a ratio of 2/3 dark meat to 1/3 light meat, ground
1/2 cup cranberries
1/2 lb pork back fat
1 tsp. fresh ground clove
1 tsp. fresh ginger
1 tsp. black pepper
1tbsp. salt
2 tbsp. freshly chopped sage
1 tbsp. freshly chopped thyme
About 7 ft. hog casings
Directions
Chill turkey meat and pork back fat. Grind 2 times and then add seasoning. Place in cold mixing bowl with paddle attachment and begin to emulsify with chilled turkey stock paddle at a medium speed for 1 -2 minutes until sticky. Add cranberries at end. Cook tester batch to see if you need to adjust seasonings, stuff into casings.
Braised Turkey Thigh Recipe
Tie up deboned turkey thigh into nice oval round. Season with salt and pepper. Sear off and brown. Add turkey stock. Braise in oven for 1 1/2 - 2 1/2 hrs at 300 degrees until tender. Let cook in stock.
Turkey Confit Recipe
Ingredients
5 tbsp. salt
2 tbsp. sugar
1 tbsp. black peppercorn
1tbsp. clove
1 stick cinnamon, broken up
8 leaves sage
10 smashed cloves of garlic
3 shallots, thinly sliced
3 sprigs oregano
5 sprigs thyme
1/3 cup cognac
Directions
Wash turkey with cognac then add all other ingredient together. Cover turkey and let sit for 24 to 36 hrs cover in rendered fat (duck, turkey, pig, chicken, whatever you can get your hands on). If no avail of animal fat, use olive oil. Cover place in 230 degree oven and cook for 4 to 6 hours.
Photo courtesy of Celeste Noche