SF Cocktail Week 2011 Events
PopSugar's Picks For SF Cocktail Week
Next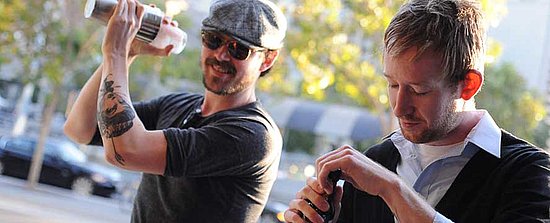 The fifth annual SF Cocktail Week is finally here! From special events and seminars to dinner parties and afterparties, there are more cocktail celebrations in store for us this week than we can handle! Several events have already sold out, but here are our top picks of the rest:
Main Events
Shaker & Flask — Tuesday, Sept. 20, 6 to 9 p.m. at Big Daddy's Antiques (1550 17th St.), $65 admission or $75 at the door

For the city's vast geek demographic, this event showcases the science behind cocktails with guest bartenders who specialize in molecular mixology experimenting with antique scientific equipment, liquid nitrogen, pressure-infused botanical vodkas, frozen cocktail popsicles, and herb-infused raw egg white fizzes. While you enjoy the benefits of molecular gastronomy, peep dramatic decorative antiques in the intriguing shop.

Barbary Coast Bazaar — Friday, Sept. 23, 8 to 11 p.m. at the Old Mint (88 Fifth St.), $85 admission or $95 at the door

Put on your favorite fringed ensemble for this 1920s, traveling-circus-inspired fête. In addition to attractions like juggling unicyclists, fortune tellers, conjoined twins (ayee!), and a gypsy jazz sextet, the event will feature carnival-inspired appetizers from Hayes Valley's Straw (203 Octavia Blvd.), like crispy mini corndogs with lavender honey mustard, donut hole cheeseburgets, and mini funnel cakes, and punchbowl cocktails from Rye (688 Geary St.), Bourbon & Branch (501 Jones St.), DOSA (1700 Fillmore St.), and Elixir (3200 16th St.).
Seminars
How to Set Up Your Home Bar — Tuesday, Sept. 20, 6 to 8 p.m. at The Boothby Center for the Beverage Arts (1161 Mission St.), $25 admission or $35 at the door

What's the point of adding fancy cocktails to your repertoire if you don't have a home bar? At this seminar taught by startenders David Nepove (director of mixology, Southern Wine and Spirits) and Jon Santer (brand ambassador, Hendrick's Gin), you'll learn what you'll need to buy, stock, and chuck to create a variety of cocktails at home, as well as how to use your ingredients and bar tools to become a mixology master!

Hands On With Scott Beattie: Artisanal Gin Cocktails — Wed., Sept. 21, 6 to 8 p.m. at The Boothby Center for the Beverage Arts (1161 Mission St.), $25 admission or $35 at the door


Renowned Bay Area mixologist and author Scott Beattie (Cyrus and Spoonbar) teams up with local Distillery No. 209 to share a brief history of gin and pass along his know-how about the creation of two classic and two modern gin cocktails, using local and seasonal ingredients. In this hands-on seminar, you'll create four cocktails and learn bartending and cocktail basics from Beattie.
Dining Events
Jasper's Corner Tap (401 Taylor St.) — Tues., Sept. 20 at 8 p.m., $93 per person

Head to this hot new Tenderloin gastropub for a night of refined comfort food and classic cocktails with chef Adam Carpenter and Erick Castro of Beefeater & Plymouth Gins. Dine on deviled eggs with salad, riblettes in citrus broth, and local halibut with tomato and sweet corn succotash while you sip on specially paired cocktails, including the Cloud Kicker (Beefeater Gin, cynar, yellow chartreuse, and Campari).

Belvedere Bloody Mary Brunch at Skool Restaurant (1725 Alameda St.) — Sun., Sept. 25 at 11:30 a.m., $60 per person

Wrap up SF Cocktail Week with a favorite brunch beverage. Join mixologist Rob Gordon and Chef Moto Nagono for a special bloody mary brunch with seafood-focused dishes, and have a taste of the world's first bloody mary vodka. Different versions of the tomato-based bev, from one with muddled cucumber, lime, and agave to a sparkling bloody with tomato pink peppercorn syrup, will open a whole new world of drunk brunches for you.