Review of Nopa's Brunch in San Francisco
8 Reasons to Have Brunch at Nopa This Weekend
Next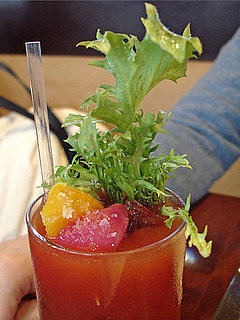 If Nopa (560 Divisadero St., 415-864-8683) keeps going at this rate, it's going to be the high-end, locally sourced version of a 24-hour diner. One of my favorite spots in the city for dinner, cocktails, and late-night eats, Nopa recently added brunch to its repertoire. I finally got the chance to sample the morning menu; here's why you should too.
Reservations accepted! I don't always have the patience for long lines, and the reservable brunch is a rare bird. I made a reservation the day before and, unlike Nopa's dinner service, had no trouble getting a spot.
Morning mixology. Befitting its reputation for twists on classic cocktails, Nopa offers a sophisticated daytime buzz via drinks like the Ramos gin fizz, the Sparkly Wallbanger, and, of course, a Bloody Mary.
Pickled beet garnish. Though I think the Bloody Maria at sister restaurant Nopalito is better, the sweet and velvety beets on this well-made Mary were a garnish revelation.
Eggs done right. From the butter-basted eggs with seasonal vegetable hash (below) to poached eggs like pillows, Nopa has clearly mastered this morning staple.

Something for everyone. Everyone seems to have different ideas of what makes a perfect morning meal, and Nopa has us covered. Options range from sweet starters like granola and French toast to small nibbles like the housemade bagel with smoked trout, as well as Nopa's famous burger and an egg dish served with housemade andouille sausage, white beans, and treviso (below) .
Almond wood, all the time. The flavor of almond wood used in Nopa's ovens penetrates everything, including the grilled bread with homemade butter and quince preserves, and gives the restaurant a cozy feel on a cold day.
Those windows. For years before Nopa opened, I walked by the empty space waiting to see how a tenant would use the fantastic, cathedral-like windows, which alone provide an argument for daytime dining.
The servers can sympathize. Considering this place stays open until 1 a.m., chances are, the servers are no strangers to late-night revelry or its aftereffects.