Review of Lather Swiss Apple Facial at Equinox
Beauty Beat: A Blissful Swiss Apple Facial at Equinox Spa
Next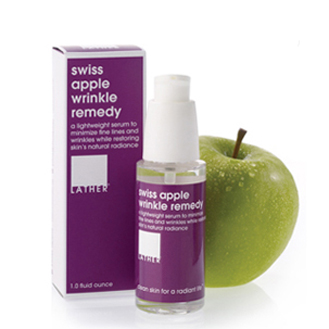 A facial a day may not be as practical as an apple a day. But if it were, the new Swiss apple facial at the spa at Equinox (301 Pine St., 415-593-4000) could keep you radiant.
I was recently invited to try out this 50-minute wrinkle remedy ($145), which strikes a healthy balance: it's a relaxing, good-smelling indulgence (no extractions) that also delivers results. Afterward, you can get up from the table, put on just a touch of makeup, and head out to dinner (as I did).
Using apple-derived ingredients from Lather, my esthetician Dora delivered a deep cleansing and the signature serums, along with some great advice and not a dollop of product-pushiness. On that note, don't expect a fruity apple aroma from these products: the apple comes into play by providing the stem cells that help protect your skin and prevent wrinkles. With the addition of phospholipids and hyaluronic acid, my skin looked and felt ultramoisturized and supple, even on a very dry day, and the effect extended into the next week.
Equinox's spa is simple but unpretentious and, better yet, it comes with a full Equinox experience. Booking any spa treatment earns you a day pass to the entire gym, and you get to change into your robe and slippers in the Kiehl's-centric locker room. So squeeze in a workout, take a swim, and shower off with some Kiehl's body wash. Your face, and body, will thank you.