Review of Kevin Spacey in Richard III at Curran Theatre in SF
Curtain Call: Kevin Spacey Rivets as Richard III
Next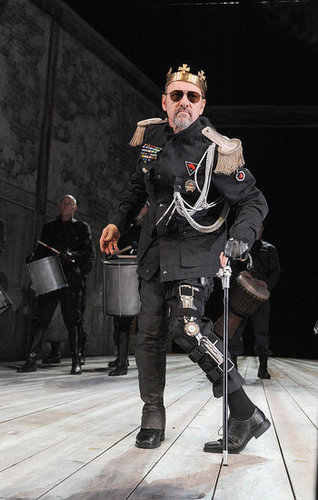 The Curran Theatre (445 Geary St., 888-746-1799) was bursting at the seams with celeb stalkers and theater-goers Wednesday night for opening night of the Sam Mendes-directed Richard III, starring none other than Mr. Kevin Spacey. In a word, the performance was magnificent.
The tale of the Machiavellian monarch's rise (and shortly subsequent fall) to power opens with one of the most famous lines from Shakespeare: "Now is the winter of our discontent." With England at peace, Spacey, Duke of Gloucester, sitting hunchbacked and crippled in a modernist leather armchair, is dissatisfied: his eyes are set on the throne. A man who won't be disconcerted, who sickeningly enjoys every challenge, the duke systematically takes out everyone who comes in his way, including his own brother Clarence, who stands before him in the line of succession.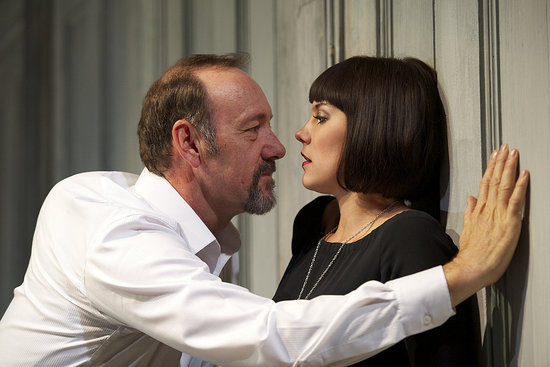 Spacey's performance is absolutely captivating. He's humorous. He's full of turmoil. He's adaptable. He's stern. He's provoking. He's a sociopath. He's sweaty. He's certainly no American beauty. He commands the stage visually, physically, and vocally. And in the few scenes where the crutch-bearing king (or duke) does not have a part, his fellow actors hold their own. Lady Anne (Annabel Scholey), widow of Edward of Westminster, who the duke, naturally, recently killed, is a spitfire. She's fierce, passionate, and blustery, yet easily aroused; the duke manages to seduce her at the most inopportune of times: during the funeral of Lady Anne's father-in-law, King Henry VI, another victim of the duke's. Gemma Jones (whom you know as Bridget Jones's mother) plays Margaret, the matriarch and widow of King Henry VI, and she appears like you've never seen her before. She's absolutely haunting, fear-inducing, full of loss, and compassionate.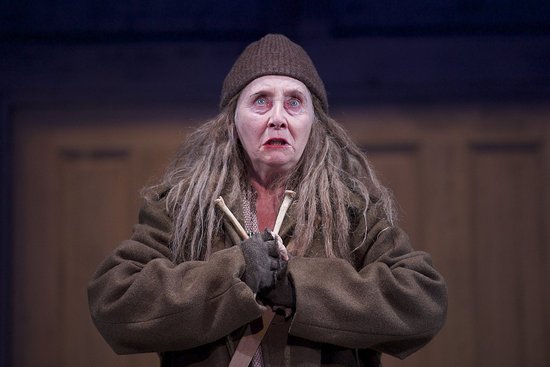 Despite the demanding Shakespearean text and the distant intermission, the production is gripping. And while Shakespeare fanatics may "get the joke" more than others, you don't have to be a theater buff, or in it for the star-gazing, to enjoy — scratch that: be absolutely riveted by — the performance. And the finale, which ends in blood (not surprisingly), drums, and a grand gymnastic feat, will blow your mind. Congrats, Sam Mendes, you've done it again.
The performance runs every evening through Oct. 29, with limited seats still remaining. Snag your tickets before they're gone!