Review of Heart Wine Bar San Francisco
The Heart of the Mission
Next
Step off Valencia's crowded sidewalk and into this mechanic's garage turned wine bar. Heart (1270 Valencia St., 415-285-1200) has one ambition in life: leave the pretension of wine tasting behind and invite the convivial bar spirit in.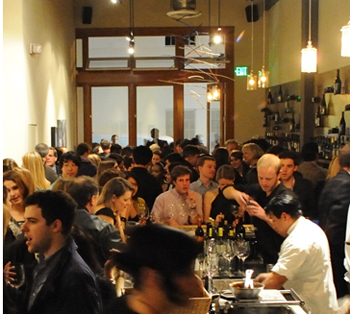 This being the Mission — and the owner (Jeff Segal) being a 26-year-old who dreams in red, white, and rosé — its heart is more visceral than Valentine. A meticulously rusted aorta marks the spot outside, and not a trace of the starry-eyed sentiment bleeds from within. Instead, bottles of wine warm wooden walls on one side, yet rotating art on the other knocks its rustic-modern vibe askew, feeling more like an MFA show than an integrated installment.
A forgivable peccadillo when you open the menu waiting at your table. Its wine collection may be why you come, but ambitious small plates — created by Dogpatch's most popular lunch stop, Kitchenette — will bring you back. A corn-thyme bread pudding with braised mushrooms was Fall-day perfection while cauliflower panna cotta topped with green tomato marmalade was an oxymoron of savory sweet, which for its intense flavor and novel texture is probably best shared.
The wine list appeals to a sense of adventure over stature; it's unlikely you'll recognize a name as Heart favors obscure varietals sourced from mom-and-pop wineries in France, Spain, and Italy. One caveat to know before you go? Wine is served in mason jars, a controversial tumbler, especially for white and rosé drinkers looking to chill out. My rosé came a few degrees too warm (or do I just drink it too cool?), so the heat that hand-holding added seemed negligible. For whatever soul-searching young Heart needs to do, it's a welcomed place to meet after a Mission-perfect Saturday, dwell during the week (there's WiFi), or grab a bottle and go — you can!

Source: Heart