Review of Hair at Golden Gate Theatre in San Francisco
Curtain Call: Hair, the American Tribal Love-Rock Musical
Next
Entering the Golden Gate Theatre (1 Taylor St., 888-746-1799) last night for opening night of Hair: The American Tribal Love-Rock Musical, I was handed a daisy by a cast member in '70s garb. Picking up our tickets, my friend and I were urged to choose printed name tags: we selected Feather Loveblossom and Joy Pollenflower. From the onset, it was clear I was in for a hippie theme and an interactive performance. And that sums much of it up.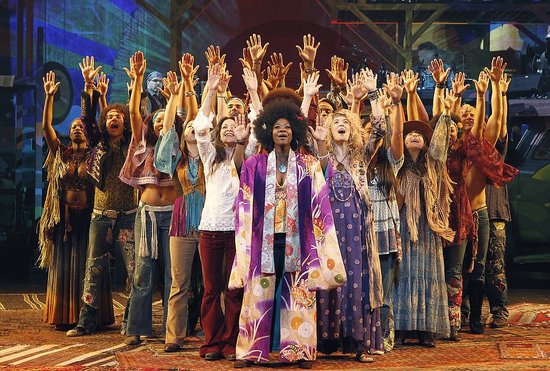 Set in New York City in 1967, the cast members were outfitted in apparel of the times: bell bottoms, fringe, floor-length skirts and dresses, leather vests, more fringe, crochet tops, patches, kimonos, beads, etc. Throughout the musical, cast members run up and down the aisles; they wave flags; they bang tambourines; they protest; they tousle the hair of theatergoers; they dance with theatergoers. And during the show's famous finale, audience members are invited on stage to dance alongside the cast — and are even invited to tag themselves the next day in a video of the dance party. Yes, it's incredibly interactive, and that's incredibly fun.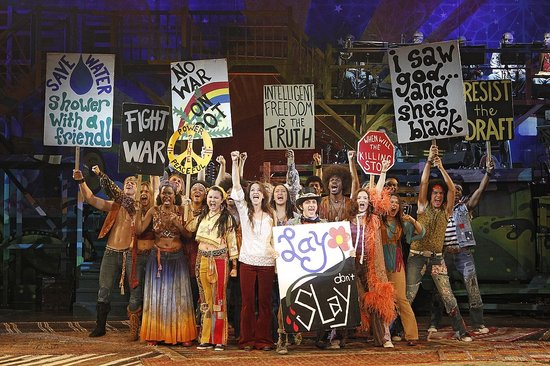 But there's no plot to speak of. There's some draft card burning, a pregnant teenager, a horny high school student who gets kicked out of school, a musical chairs game of romances, drug references, lots of groping, lots of war protests ("Hell No! We won't go . . . to that induction center!"), and a wannabe Englishman from Flushing, Queens, who's drafted to the Vietnam War — guess what happens to him? Oh, yes, and how could I forget: 20 seconds of nonsexual full-frontal nudity! And then there's a series of hallucination scenes: an excuse to get actors dressed up in Native American, Scarlett O'Hara, Abe Lincoln, and Aretha Franklin garb all on stage simultaneously; any excuse to sing Aretha!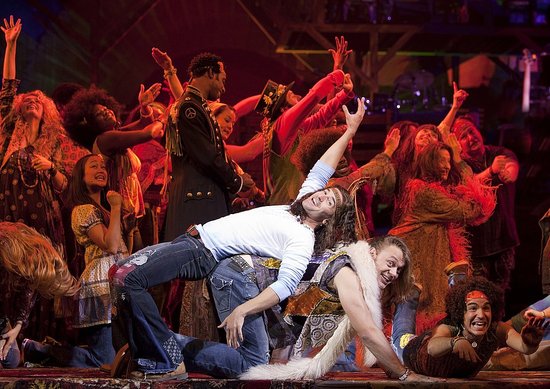 I think the performance can be summarized with a few poignant lines:
"Transcendent meditation on the ocean of reality of love."
"Sodomy, fellatio, cunnilingus, pederasty. Father, why do these words sound so nasty?"
"I believe in love."
"I'm the slum goddess of the Lower East Side."
"What do you want to do with your life? What do you want to be? Besides disheveled?"
"I got freedom, brother."
"Oh Hubert! A whole haggle of hippies!"
"She asks me why I'm a hairy guy. I'm hairy high and low."
"Beads, flowers, freedom, happiness."
"As Mary Magdalene once said, Jesus I'm getting stoned."
"Hustling is an honest profession."
"Blessed is the fruit of the loom."
"God, Burger! What did you put in that joint?"
The jokes are perfectly timed and will make you LOL. You may even find yourself singing along. Or find yourself eyeing some hippie buttocks. And you'll definitely eye some hippie abs. I can't imagine what the experience of seeing the original musical Hair in 1968 must have been like; they're apples and oranges. Today, any free-love-focused plot has an element of "been there, done that" that doesn't feel original — and I know this musical isn't original — but I must say, humming along to "The Age of Aquarius" and "Let the Sun Shine In" never gets old.