Review of Flour and Water Restaurant in SF
Flour + Water: Filling San Francisco's Unpretentious Dining Void
Next
The words Flour + Water (2401 Harrison St., 415-826-7000) have been on the tongue of every foodie in town since the Italian restaurant opened in the Mission two years ago. Impressively, it has managed to live up to the hype — so much so that the F+W dream team David White, David Steele, and Chef Tom McNaughton are juggling two other projects, Central Kitchen and Salumeria, both slated to open early next year.
Leaving the restaurant during a recent visit, I passed the rising star Chef McNaughton on the sidewalk and complimented him on meal. "The service is much better than the food. That's for sure," he quipped. In that moment, the reason for the Flour + Water's great success occurred to me. It's not just the heaven-sent, freshly house-made pastas, the hip Mission district location, or the refurbished and reclaimed décor by Paxton Gate: it's the lack of pretension. In a city so devoid of celebrities that we herald our local chefs with royal, A-list status, unpretentious yet delicious dining is a rare find and something San Francisco needs more of. Yet Flour + Water nails it through and through.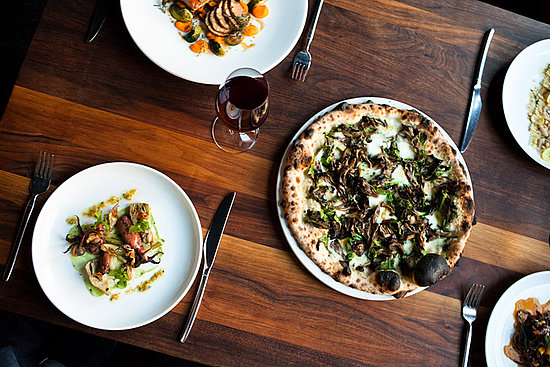 Before I'd even arrived, I got a sense of it. Though I made my reservation a month in advance (a local editor's habit), I could have just as easily walked right in on that Tuesday night. The restaurant reserves half of the dining room, bar, and community table for walk-ins, which are seated on a first-come, first-served basis; the other half can be reserved for parties of up to six people.
At the front door, one gentleman checked in with the hostess, mentioning that he'd left his wallet at home across the street and would return in a minute. A woman on her way out proclaimed, "See you soon, I'm sure." Despite the hype machine, it was already clear that the restaurant is a neighborhood spot. In fact, a proclamation on its website reads, "Flour + Water is of, by and for the neighborhood, with both owners and the chef/owner, being longtime residents of the Mission District in San Francisco, CA." And I bumped into McNaughton at nearby bar Shotwell's (3349 20th St., 415-648-4104) later that evening . . .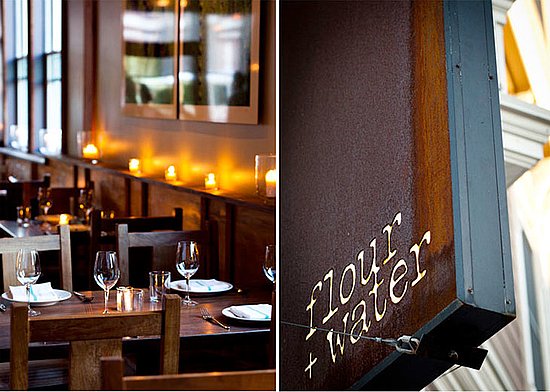 Since it was a hot night at the end of September, I thought it a good time to begin a recent new endeavor: trying to get over the stigma of rosé. I ordered a glass of the only rosato on the menu and my delightful server replied, "You know this is a rosé, right? I should give you a blue ribbon." I was enthused to have him on board with my decision. I also couldn't help but notice how accessible the wine list was; there's really something for every taste and budget.
Once my dinner date and I had thoroughly devoured my fig salad with lardo, almond, and horseradish, our server offered us some bread "to sop up all that delicious sauce"; no need to shy around the fact that we wanted to lick the plate clean, right?
Soon after, I noticed that the wait staff was quite casually dressed; short shorts seemed to be the norm for the ladies and a few gents were wearing simple cotton tees. Turns out there's no need to worry about being underdressed! I could get used to this.
In the midst of ordering a pizza and pasta — the funghi with nettles, chanterelles, fontina, and sage cream, and something lemon-y that's no longer on the menu — we admitted we weren't familiar with some of the names of the pasta forms; I can never tell my strozzapreti apart from my farfalle. Our waitress jokingly said, "Oh let me pull out my cheat sheet!" Though she in fact was sharp with her dough lingo, her response made it clear I shouldn't be expected to be. Phew.
Our glasses were dry before we'd finished our meals, and we were offered half-glasses in case it was "a school night"; it felt more like drinking in a friend's living room than at a table at one of GQ's "10 best new restaurants in America." The bill came before we'd clearly finished up or requested it — a trick of the trade to turn over tables more quickly — but our server urged us to "take our time." And when all was said and done, my half of the bill rang up at $45, a bargain by any standards for a sophisticated, two-course meal and stigma-free rosé.