Pico de Gap SF Taco Truck With Menu by Top Chef Ryan Scott
Gap Debuts "Pico de Gap" Taco Truck With Top Chef Ryan Scott
Next
Make room for one more food truck in your dining-on-the-go itinerary. To celebrate its 1969 Fall denim collection, Gap is hitting the mean streets of San Francisco with a custom vintage gourmet taco truck, aptly named "Pico de Gap," and a menu curated by Top Chef alum and restaurateur Ryan Scott. The Bay Area-base retailer kicks off its citywide culinary adventure today and will park beside local Gap stores, as well as make appearances at special events, street festivals, etc., through Sept. 30.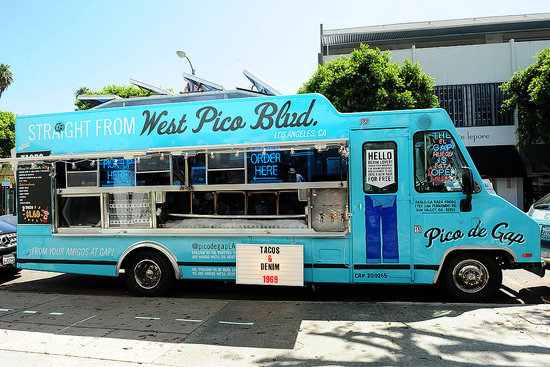 Scott, who culls experience from his very own food truck, 3-Sum Eats, writes, "I'm proud to announce that I'm teaming up with Gap and 1969 Jeans to launch Pico de Gap. Look forward to making some yummy tacos in SF with my recipes and wear some 1969 Jeans. Go Gap!" His custom menu is affordably and fittingly priced at $1.69 for two tacos and a beverage, or free with proof of a same-day Gap denim purchase. To top it off, you'll earn a coupon for $20 off new threads with every order, and some lucky taco-eaters will win a free pair of 1969 jeans.
Ryan Scott's Pico de Gap Menu:
Chorizo and crispy potato taco with goat cheese, watercress, and charred lime salsa verde
Mole-braised brisket taco with pumpkin seeds, red onion marmalade, queso fresco, and Mexican chocolate vinaigrette
Raw yellow corn "ceviche" taco with dirty green rice, poblano aioli, guacamole, and charred tomato salsa
California taco with pasilla-braised chicken, Frank's Red Hot Sauce, pepper jack cheese, and Cool Ranch Doritos
To stay in the know about Pico de Gap's future destinations, follow @picodegapSF. Here are a few scheduled locations:
Aug. 12: dinner in The Castro, 5 p.m. to 10 p.m.
Aug. 18: lunch at Proxy in Hayes Valley, 10. a.m. to 3 p.m.
Aug. 31: lunch in the Financial District, 10 a.m. to 3 p.m.
Sept. 8: dinner on Berry Street at AT&T Park, 4 p.m. to 7 p.m.
Sept. 16: lunch at Front St. and Vallejo St., 10 a.m. to 3 p.m.
A "Pico de Gap" taco truck is also traveling through LA with celeb chef Marcel Vigneron, Chicago with Rick Gresh, and NYC with Katie Lee, so heads up to friends in those cities!