Nutmeg Cocktails in San Francisco
Seasonal Sips: 5 Nutmeg-Dusted Cocktails Around Town
Next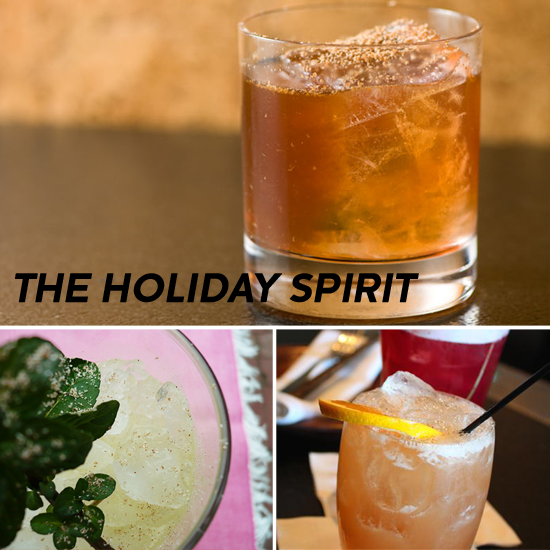 If the season's to-do lists are expanding at rapid speed, take a break from your cooking and shopping and pop into one of San Francisco's artisanal cocktail bars for a nutmeg-dusted drink that will put you in the holiday spirit. Here are a few places around town that you can find one of these deliciously uplifting confections. Why not make it a cocktail crawl?
While you're visiting the Ferry Building farmers market, pop inside for a drink to warm you up. The house Agricole Rhum Punch (lower right) at Slanted Door (1 Ferry Building, 415-861-8032) is served on the rocks with La Favorite rhum agricole ambre, lime, cane syrup, Angostura bitters, and allspice dram and dusted with nutmeg. Yum yum, rhum rhum.
Have a pretheater drink at Michael Mina's Clock Bar (335 Powell St., 415-397-9222) inside the Westin St. Francis on Union Square: the Chartreuse Swizzle (lower left) is made with green Chartreuse, velvet falernum, fresh lime juice, and pineapple juice, served tall over crushed ice with nutmeg and fresh mint. How refreshing does that sound?
If you find yourself in the Richmond district this holiday season, sit down for a pick-me-up: the espresso cocktail at Aziza (5800 Geary Blvd., 415-752-2222) is made with nutmeg, cream, and brandy. Sounds like a dangerously delicious breakfast.
Elixir (3200 16th St., 415-552-1633), the second oldest saloon in San Francisco, often has a number of nutmeg concoctions on its rotating menus. Ask for the Old Sydney Town Punch, made with Bols Genever, St. Elizabeth's Allspice Dram, Meyer lemon juice, and Small Hand Foods pineapple gum syrup and topped with a grate of nutmeg.
At Chinese restaurant and cocktail bar Heaven's Dog (1148 Mission St., 415-863-6008) in SoMA, the Bittered Sling (top), made with armagnac, gum syrup, bitters, and nutmeg and cooled with a hand-cut ice chunk, is a superb and unassuming drink with complex flavor — sort of a cousin of an Old Fashioned, if you like those. Mixology fans will want to try this one at home.
Source, Source, and Source: Flickr user nerdling