A Midcentury Modern Meander, From Market Street to the Mission
Next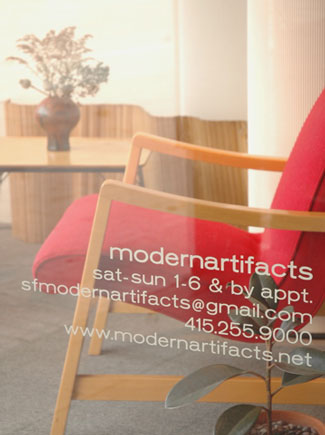 San Francisco was mad for midcentury modern furniture way before Mad Men. While that may not make it easy to find Danish teak diamonds in the rough, our '60s style obsession means plenty of specialty shops designed to feed your Eames jones.
Shopping for a new addition? Follow this route from Market Street to Valencia to hit up some of the city's best midcentury modern home stores.
Start at Modern Artifacts (1639 Market St., 415-255-9000), at left, a deceptively large two-story emporium in the furniture mini district around Market and Van Ness. Specializing in postwar furniture pieces from Arne Vodder, Hans Wegner, and lesser-known (and less expensive) names, this well-priced and well-designed shop also offers a large selection of accessories.
Walk south on Market Street (perhaps with a diversion to Rare Device) and turn left on Valencia. Stop in to Four Barrel Coffee to fuel up for the rest of your shopping.
To visit Tradesmen (311 Valencia St., 415-552-8121) you'll have to make an appointment, but it's well worth it. This teensy treasure trove is like going to a garage sale held by one guy with very cool taste. A very small selection spans a whimsical variety of styles: you'll find some '50s and '60s furniture but also worldly rugs, '70s sofas, and fascinating found objects.
Similar to Tradesmen but far more expansive is Farnsworth (393 Valencia St., 415-503-1252) just up the block. Like an airy, open gallery showcasing fine art and furniture, this high-end shop has an extensive collection of seating, buffets, bars, bookshelves, and more.
Stroll into the Mission down Valencia until you hit Therapy's home store (541 Valencia St., 415-865-9758), which carries new furniture appealing to the midcentury modern design eye. Consider a custom-made sofa that will fit right in with your '50s coffee table.
The nearby Monument (573 Valencia St., 415-861-9800) is probably the chicest of these shops, and also the priciest, but with good reason. It's filled to the brim with near-perfect pieces from all the big names but doesn't feel the slightest bit cluttered. A must-stop for any midcentury modern fan. Serious shoppers can make an appointment at the annex across the street.
Finish up at Harrington Galleries (599 Valencia St., 415-861-7300), a hodgepodge of postwar, antique, and new home goods packed into a 15,000-square-foot space. It looks and feels more like a thrift store, but it's well worth it to wind between the humongous selection and find exactly what you need and a few things you never knew you did.
Reward yourself with an afternoon libation at Dalva (3121 16th St., 415-252-7740), a hipster haunt that's quiet and contemplative when it opens at 4 p.m. Enjoy unexpected house cocktails and draft beers like Abita Amber and Moose Drool, and be sure to ask for a cup of the complimentary Goldfish crackers.