Last-Minute Halloween Costume Shopping on Haight Street
Haight Street Haunts For Last-Minute Costume Success
Next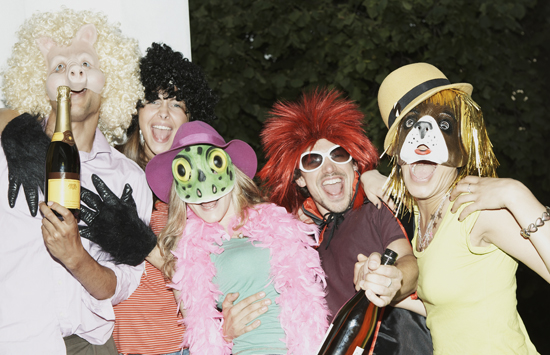 Choosing a Halloween costume is one of those Fall rituals people are either creepily intense or super lax about. Maybe you're more creative under pressure, or perhaps the fact that Halloween is on Monday somehow managed to slip your mind. No need to fear! In a city that embraces all things inspiring and strange, there's no better place to pick up pieces for a last-minute Halloween costume than good ol' Haight Street. We've got you covered with five shops on Haight Street sure to get you prepared for a festive and fun Halloween.
Bettie Page (1529 Haight St., 415-864-6001): Channel your inner pinup girl and make the move to Bettie Page clothing. It may be a little pricier than your typical Halloween stop, but it is home to some awesome and inventive retro styles you can actually wear again.
Held Over (1543 Haight St., 415-864-0818): If you're heading to Held Over, make sure to leave some extra time; this is the kind of store you can get lost in for hours! Held Over has the makings of a favorite vintage spot: a ton of merchandise, hidden treasures, and a super helpful staff.
American Apparel (1615 Haight St., 415-431-4038): American Apparel is always an option to lay a solid foundation or bring the last-minute pops of color to a funky DIY Halloween costume. From "Get Physical"-inspired aerobics ensembles to underlayers for cardboard box creations, these basics have you covered.
Piedmont Boutique (1452 Haight St., 415-864-8075): More often referred to as that spot on Haight Street with a pair of killer legs, the Piedmont Boutique is your best bet for over-the-top and crazy accessories necessary for a successful SF Halloween ensemble.
Wasteland (1660 Haight St., 415-863-3150): Without a doubt, Wasteland is one of my favorite shops in the entire city. All the amazing vintage and thrifted garb this Haight Street gem offers had even my most stylish NYC friends spellbound the last time they were in town. The best part about Wasteland? When Halloween rolls around, they pull out more pieces that are fit for creative costumes.