Interview With Scarf Brand Stolen Sunday's Jacy Ceccarelli
SF Label Stolen Sunday and Its Cuter-Than-Words Designer Have Your Neck Covered
Next
If there's one common denominator between all of SF's unique ladies (and gents), it's that we don't leave the house without a scarf wrapped around our necks or stashed in our handbags; the city's weather has never been awarded for consistency. So meet your newest neckwear resource, Stolen Sunday! Just launched at Outside Lands this year, the SF-based label churns out hip, urban-chic neckwear like infinity scarves and original scarf-hoodie creations that are so perfect for the city's bipolar weather, you'll be tempted to order them in bulk. The designs are carried in several stores throughout the city, including Swankety Swank, Wonderland, The Blue Jeans Bar, and RAG: Resident Artist Gallery, as well as sold online. I caught up with adorable founder and designer Jacy Ceccarelli (shown) to learn about everything Stolen Sunday! See our interview below.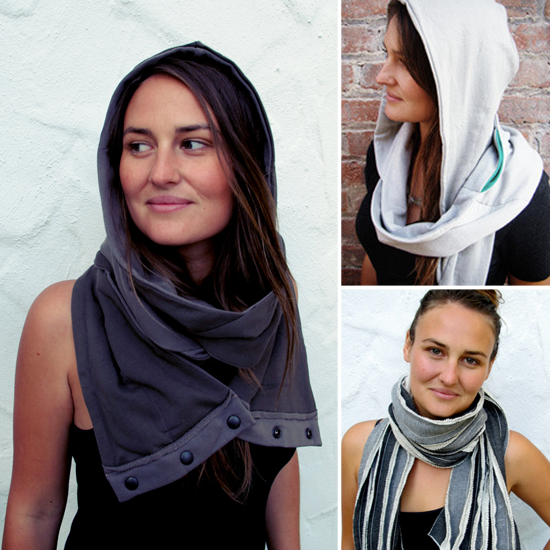 PopSugar SF: What's the story behind Stolen Sunday? Why did you decide to start the business? How long have you been around?
Jacy Ceccarelli: Well, I've always known that I wanted to do something on my own, but I was bitten by the travel bug early and have spent the last several years pinballing around the planet. When I finally landed in San Francisco a year and a half ago, I quickly fell in love with the city and was ready to get something going. Stolen Sunday started with the original scoodie design, and the vibe of the brand is a reflection of my personality. I'm a fun, adventurous person, and I love being able to inject so much of my own energy into this. Right now, our collection features the original scoodie (scarf-hoodie), a lighter-weight "simple scoodie," and a slew of infinity scarves that just won't quit. Really, your neck will never be the same.
PS SF: What's the vision or concept behind Stolen Sunday?
JC: Let's see. I'm going to plagiarize my own website for a second . . . Stolen Sunday is the view from rooftops and treetops. It is kicking off your shoes and dancing around a campfire. It is train trips, skinny dips, and howling at the moon. Based in San Francisco, Stolen Sunday is California kids making clothes that look good, feel good, and remind you that life is pretty damn magical sometimes. So there's that.
PS SF: What types of materials are you using in your line?
JC: We make conscious, American clothing. We use organic cotton grown in the States, and our garments are sewn right here in San Francisco. I am a huge color enthusiast (been obsessed with Crayola boxes since forever) and I've had so much fun experimenting at the dye house — so many of the colors in our current collection are packed with so much oomph!
PS SF: What the heck is a scoodie!?
JC: It's the garment of the future! A little bit of hoodie, a little bit of scarf, a whole lot of rad. No but seriously, these things are super versatile, super comfortable, and so good looking.
PS SF: How would you describe your customer? Who is the quintessential Stolen Sunday guy or gal?
JC: I've actually been thinking about this a lot recently. Our garments are so versatile, they really look great on just about everybody. But I have this dream of designing clothes for people who love life. People who are out there in the world doing things. Stolen Sunday's style is definitely bold, and I like to think when you put on one of our pieces it works sort of like a superhero cloak: you feel like can take on the world! Or at least your afternoon.
PS SF: Your products are available in a few shops in San Francisco. Do you imagine selling your line out of state or ever having your own brick and mortar store?
JC: Yes, all of that! I have been overwhelmed at the positive response so far. We love our SF stores and are talking to retailers all around the country. A brick and mortar store would be fun too, but that's still a long ways off at this point.
PS SF: Do you plan to branch out beyond scarves (and their siblings!) into other types of apparel?
JC: Yep, that's the master plan, anyway. I'm working on a bunch of new stuff, I'm especially excited about this radical line of vests that's in the works. Watch out!