House of Shields Bar in San Francisco Review
Happy Hour Report: House of Shields
Next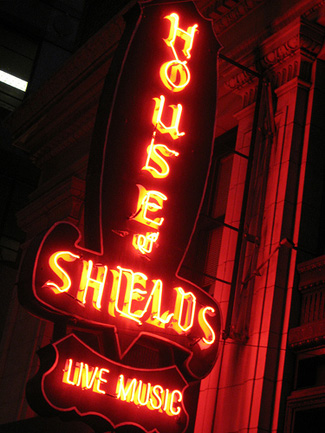 House of Shields (39 New Montgomery St., 415-975-8651) has always been one of my favorite happy hour spots, so I was excited to see the space revamped by Chef Dennis Leary of Canteen. Judging by the teeming happy hour crowds, so was everyone else.
First, a bit of history — and House of Shields has a storied one. It opened in 1908, making it one of SF's oldest bars, but closed this June due to lease woes. Leary took over the spot and spent several months restoring the woodwork, chandeliers, and other fixtures before the reopening in December. I recently spent two happy hours at HOS: one on Friday, another on Tuesday. Here's the lowdown.
Atmosphere: The madeover space is quite impressive: all the coziness and unpretentiousness of the old Shields with a more regal patina. You can belly up to the gorgeous wooden bar or slip into a comfy booth lining the walls, but beyond that, seating is minimal.
Crowd: On both Tuesday and Friday, this place was packed by 5:30, so get there by 5 or prepare to join the standing room (barely walking room) throngs. We stayed for one drink before escaping to the Pied Piper (2 New Montgomery St., 415-546-5089) across the street — fitting, since House of Shield's sublime wooden bar was originally meant for the Palace Hotel space.
Drinks: No happy hour drink specials advertised, but the drinks are reasonably priced and well-made. Don't expect a cocktail menu, but you can get a capable cocktail. I ordered a sazerac, and the female bartender did the difficult drink proud.
Snacks: House of Shields plans to roll out a food menu in the next few months, but probably only a late-night deal, which is good, because I can't imagine carrying a plate of food even a few steps through these crowds.
Source: Flickr User KirrilyRobert