Bikini Body Sculpt Equinox Class Review
Summer Shape Up: Bikini Body Sculpt at Equinox
Next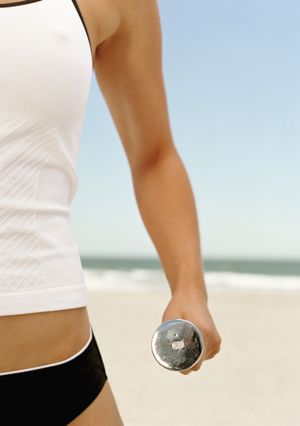 San Francisco doesn't give us many opportunities to don bikinis, but vacations do, and it's time to start sweating swimsuit and sleeveless season. To get you in shape, I'm sampling group fitness classes that will make the moment of truth easier to face. First up: the bikini body sculpt class at Equinox (301 Pine St., 415-593-4000), one of our Pop 5 best gyms.
Even if you aren't planning to disrobe anytime soon, the bikini body sculpt class is a fabulous all-around fitness option. I recently sampled the 45-minute session with Jayme Boyle, who serves as the group fitness manager at the club and has a Cameron Diaz-like look to show for it. Though I expected this workout to focus on abs, I was pleasantly surprised to find it was far more well rounded. Incorporating hand weights and step platforms, the class alternates between intense cardio intervals and strength-training sets inspired by Barre and Pilates. Rather than just toning your tummy, the intervals are designed to blast belly fat and sculpt just about any body part you might dare to bare.
The class was tiring in a good way and neither hard to follow nor prohibitively punishing. Unlike some instructors in high-energy classes like this, Jayme was energetic and motivating without being in-your-face annoying, and the music matched that mood. Swimsuit season or not, I'd put this in the regular weekly workout rotation.
What workouts are you trying for bikini season?
Source: Thinkstock