Best Parks For Picnics in SF
Pop 5: Best Parks For Picnics in SF
Next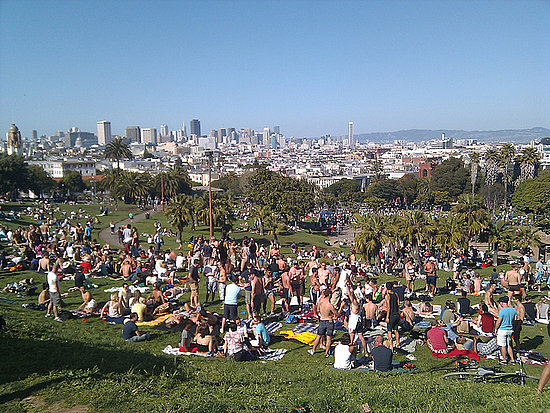 San Francisco may not be the toastiest town on the map, but when warm weather greets us, the city does have a lot of green to offer for picnicking, outdoor sports, and other activities. For this week's Pop 5, we're crowning the best parks for picnicking in San Francisco. From petite patches of grass to more expansive stretches of green, here are the parks that top the charts:
Dolores Park (18th St. and Dolores St.) This mammoth Mission park won't win any awards for peace and quiet, but it's one of the most happening places to enjoy the sun and a sandwich. Centrally located, it's accessible by BART, by MUNI, by foot, or by fixie, and it's steps away from a plethora of delicious hot spots to grab a bite — Bi-Rite Creamery and Tartine Bakery included. From the tennis courts to Hipster Hill, there are plenty of places for you to find your niche; in either case, you're bound to run into old and new friends while you're lounging in Dolores. The SF Neighborhood Parks Council votes for this one, too.
Fort Mason Green (Bay St. and Octavia St.) When the mercury rises, this Marina park is a destination for the young and active. With spectacular Golden Gate Bridge views, easy access to Safeway for sandwiches and other treats, and lots of games of corn hole, ladder golf, and bocce ball going on, your picnic will likely turn into an all-day fête.
Alamo Square (Steiner St. and Hayes St.) If you're planning a more low-key picnic, Alamo Square is also a best bet. Our own Nancy Einhart says, "I'm a big fan of Alamo Square. It can get really crowded on the Hayes Street side, but the opposite side is usually remarkably empty." Better yet, the park boasts postcard-worthy views, and Hayes Valley and the Lower Haight nearby are great spots to grab a bite before you lay down your picnic blanket.
The Panhandle (Masonic St. and Oak St.) Don't have the wheels to venture into Golden Gate Park? This Haight-Ashbury park is centrally located in the city and has a great mix of families, young people, dog walkers, and athletes. Grab your lunch on Haight St. and head on over. Reader Michele loves picnicking there thanks to "cool peeps and usually enough room to get a game of kickball started or put up a slackline."
Washington Square Park (Union St. and Columbus Ave.) With tourists visiting, tai chi enthusiasts doing their morning exercise, and local musicians playing guitar, this North Beach park scores high in the people-watching category. Plus, the view of Saints Peter and Paul Church is hard to beat. Moreover, with mouthwatering Italian sandwiches and gelato in close proximity, it's a no-brainer for a picnic during your lunch hour or a romantic dinner on a warm night.
Source: Flickr user moomoobloo