Best Hot Dogs in SF
Pop 5: Best Hot Dogs in SF
Next
Last week, we named the best burgers in town, and this week we turn attention to a burger's best friend: the hot dog. From gourmet sausages topped with homemade chutneys to bacon-wrapped indulgences in a melted mayonnaise and ketchup sauce, if you have your eye on the bun, San Francisco has you covered. Here are our favorite hot dogs in town.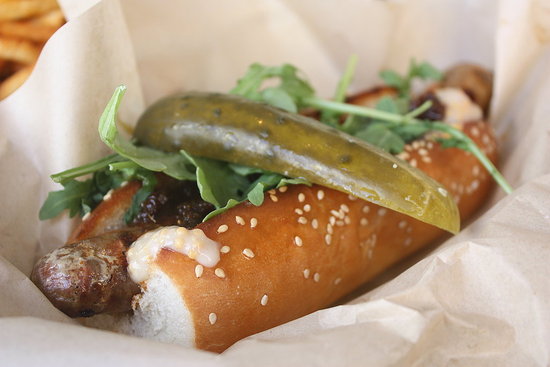 No night in the Mission is complete without a trip to one of the area's famed bacon hot dog carts. As you're emptying your dive bar of choice at 2 a.m., the smell of grilled onions draws you for one of these $3-$4 treats. Topped with a "special sauce" of mayonnaise, ketchup, mustard, and jalapeños (all optional, of course), the bacon-wrapped hot dog is the real San Francisco treat, and just one simply is not enough. Finding the carts themselves is part of the adventure; after trying your inaugural bacon dog, you'll be directing your cab driver around the neighborhood every Friday and Saturday night in search of these sizzling Mexican eats. Common locations are 16th Street and Valencia Street and 23rd Street and Mission Street; there's also a new one that's popped up recently on Polk Street near Sutter.
San Francisco's most gourmet hot dog destination, Show Dogs (1020 Market St., 415-558-9560) was opened in 2009 in the mid-Market area by chefs Gayle Pirie and John Clark of Foreign Cinema with a focus on quality, artisanal sausages, organic/bio-dynamic wines, and local micro-brews. Five of its extensive selection of sausages are made by expert chef Peter Temkin (who created the charcuterie program at Spruce), while three others are courtesy of buzz-worthy butchers such as 4505 Meats and Golden Gate Meats. Sesame seed buns hail from Acme Bread, and condiments are homemade. Those who like a little kick to their dog should try the Natural Merguez (shown), made with lamb and pork and topped with fig chutney, arugula, and house mustard. For the less adventurous, the Chicken Boudin is easy to love. Whatever your dog, the perfectly battered and salted onion rings are a must-have side. With plenty of indoor and outdoor seating, it's a great place to make a date of it before or after a Warfield show.
A full-on stomach bomb, Lucky Dogs (2211 Filbert St., 415-776-3647) goes heavy on toppings over all-beef frankfurters, tofurky, and sausages such as kielbasa, calabrese, chicken apple, Santa Fe, and more. From the Stan's Dog, topped with mayonnaise, garlic sauce, and French fries, to the Stoner Dog, topped with chili, melted cheese, and Fritos, there's nothing shy about these dogs, but if you're having a carb craving, you'll feel lucky you had one.
Tucked behind the BART station at Montgomery and Market, the classic dogs at Zog's Dogs (1 Montgomery St., 415-391-7071) recall the affordable, no-fuss dogs at carnivals and fairs — there's even a corn-battered turkey dog on a stick! Specialty dogs like the Moral Conundrum, a bacon-wrapped veggie dog (huh?), and the Prop 8 Dog, two dogs on one bun, get playful, but the winner here is the classic: a pleasing and relatively light choice when you just need a little sustenance.
Is there a better time to dine on a ballpark favorite than with Brian Wilson and Tim Lincecum in full view? The Sheboygan Bratwurst stands at AT&T Park (24 Willie Mays Plz., 888-966-6966) serve up authentic, Midwestern-style grilled bratwurst topped with onions and sauerkraut (remember that stuff?) with a San Francisco twist: on a grilled sourdough roll. Plus, they pair perfectly with overpriced beer. Find yours on the promenade in sections 105 and 135 and on the view level in sections 307, 314, and 325.