Best Burritos in SF
Pop 5: Best Burritos in SF
Next
Last week, we named the best hot dogs in town, and this week we turn attention to a true San Francisco treat: burritos. From the Mission to the Richmond, if what you're craving is tortilla-wrapped, bean-filled, and salsa-fied, San Francisco has you covered. Here are our favorite burritos in town.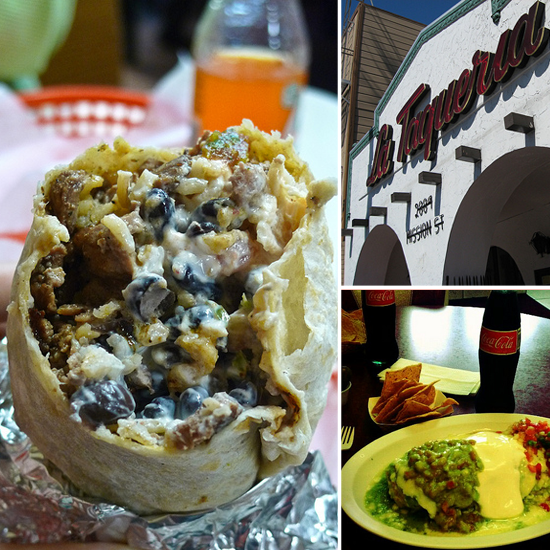 "After a too-long happy hour," as one PopSugar SF reader puts it, the Mission's El Farolito (2779 Mission St., 415-824-7877) is a burrito mecca and carries the day among our top picks. Soft yet full of flavor, the flour tortilla wrap is filled with rice, beans, fresh tomato, onion, cilantro, salsa, and your choice of meat or veggies. Meanwhile, the whopping super burrito boasts cheese, sour cream, and avocado. Just what your stomach dreams of after a night of drinking.
The secret is in the sauce at the Mission's Papalote Mexican Grill (3409 24th St., 415-970-8815), which is famous for its roasted tomato salsa, which defeated Iron Chef Bobby Flay in Food Network's Throwdown! with Bobby Flay. On a flour, whole wheat, roma tomato, or spinach tortilla with black, pinto, or refried beans, Papolote's burrito is served with rice and that stellar salsa, along with well-seasoned, chunky protein choices like carne asada, chile verde, pollo asado, or soyrizo.
Castro taqueria El Castillito (

136 Church St., 415-621-3428)

wins with its burrito with rice, beans, chunky salsa, raw onions, cilantro, and your choice of well-seasoned, well-cooked meat. You can't go wrong with the classic, but the true indulgence is El Castillito's wet burrito, topped with an overdose of cheese, avocado, and sour cream; grab extra napkins and a fork for that one.
Much-hyped La Taqueria (2889 Mission St., 415-285-7117) claims to have "the best tacos and burritos in the whole world," but we're not going that far. What the legendary Mission spot does have is a rice-free burrito, a rarity in the city. Served with meat, beans, fresh salsa, tomatoes, onions, cilantro, and hot sauce, it's a spicy, "lower"-carb option, available with a number of meats, including carne asada, chorizo, beef, pollo, beef tongue(!), and more.
Open since 1977, award-winning taco and burrito destination Gordo Taqueria (2252 Clement St., 415-387-4484) prepares all of its ingredients fresh daily at each of its six Bay Area locations, slow-cooking carnitas to perfection for four hours each day. Burritos — including steak, grilled and boiled chicken, chile verde, carnitas, and al pastor — are served SF-style in flour tortillas with rice and your choice of pinto, black, or refried beans. Want yours with a twist? Choose from corn, spinach, whole wheat, or tomato tortillas.
Source: Flickr users Marshall Astor, quite peculiar, Cameron Maddux