Batiste Rum Agricole Hemingway Cocktail Recipe
Mixology 101: The Hemingway
Next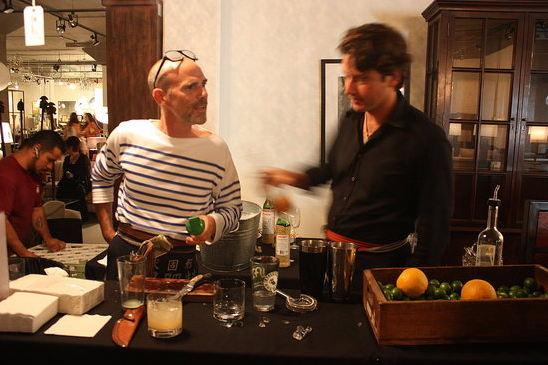 While I admittedly lined up a few times for bubbly at the Domaine Chandon table at Rue magazine's recent anniversary party at H.D. Buttercup, my favorite cocktail offered at the fashion-forward fête was served by these dashing bartenders: "the Hemingway," which is made with Batiste Rhum Agricole, imported by local, San-Quentin-based St. Barts Spirit Company. Like another of favorite of mine, the Potrero Buck, lime juice, simple syrup, and another juice (in this case, grapefruit instead of apple) are some of its main ingredients, so it is notably sweet. If you ever wish you could escape to the Caribbean for a while, just whip this up and you'll be feeling the sand beneath your toes in no time.
Ingredients
1 oz. Batiste rum
1/4 oz. simple syrup
1/4 oz. lime juice
1/4 oz. grapefruit juice
1/4 oz. Luxardo maraschino liquor
1 grapefruit
Tools
Highball glass
Cocktail shaker
Lemon and lime juicer
Instructions
Squeeze lime juice into your shaker.
Add the remainding ingredients.
Fill tin with ice.
Shake vigorously.
Strain over ice into a fresh highball glass
Garnish with a grapefruit zest peel.
Enjoy! And congrats to Rue on one year!