Basic Training SF Personal Training
Basic Training: How I Fell in Line (and in Love) With Outdoor Fitness
Next
"OK, now climb that wall." Until this moment, my introduction to Basic Training had been challenging but not scary. Trainer Jennifer Pattee was nothing like a drill sergeant, more like a really fit friend. But now she wanted me to leap onto a stone wall at least a foot over my head. I attempted to dig my feet in, run and jump, hoist myself up . . . I was dirty and bruised and scraped. Finally, hanging on for dear life, I swung my foot over the top and stood proudly atop the wall. "Great!" said Jennifer. "Now jump off and do it again." The wall was a eureka moment for me: I didn't feel like doing it or think I could do it, but I did, and it felt great. I would say the same of my experience working with Basic Training founder Jennifer Pattee.
Before I started working with Jenn, I never imagined doing something like this; I've never been to a bootcamp class or worked with a personal trainer. I stay fit, but I'm a creature of habit and also a wuss. However, my experience with Basic Training has made me fall in love with fitness in a way I never have before. Even if you're not lucky enough to enjoy six personal training sessions with Jenn, as I was, the best aspects of my experience extend to Basic Training's outdoor group fitness classes. Classes are held morning and evening throughout the week in some of SF's most scenic spots, and the instructors offer personal training services outside as well. A regular gym rat, I was floored the first time I showed up to work out at Lyon Street steps, where Spring blooms, stately homes, and Golden Gate bridge views provide the backdrop. On subsequent workouts, we headed to the Conservatory of Flowers, Strawberry Hill in Golden Gate Park, and Chrissy Field, all stunning (and highly motivating) spots to start the day.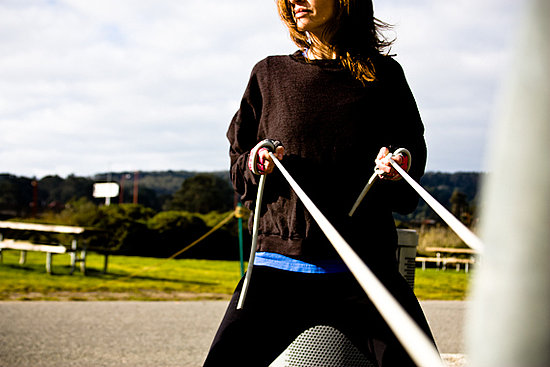 For equipment, we use what's there, quite creatively. Hills and stairs stand in for cardio machines, benches and tables provide platforms for tricep dips and ab work, and a resistance band draped over a tree branch makes a great substitute for the lat pull-down machine. Despite scary names like "dogsleds" and "suicides" ("all bootcamp exercises are named after animals or something horrible," Jenn admitted), the exercises are within my ability level, but definitely more challenging than what I'd usually push myself to do. That's what I love most about Basic Training personal training. Jenn doesn't just encourage me to do one more situp; she also encourages me to step out of my comfort zone, and I'm better for it. If I complain about not being good at something (say, footwork coordination), she takes it as a challenge to help me improve. When I strained a muscle, she recommended ointments, sports massage therapists, and acupuncturists to help me heal. She always has wise advice that makes me think differently not just about my health but also about how I live my life.