2011 Cochon 555 Coming to San Francisco
Third Annual Cochon 555 Gets Cookin' in SF June 5
Next
Oink, oink! This Sunday, June 5, Cochon 555, a traveling culinary competition and tasting event, hooves its way into town for a third annual tour. Promoting sustainable farming of heritage breed pigs, the event challenges five local buzz-worthy chefs to prepare a menu — from nose to tail — from heritage breed pigs for a crowd of pork-lovers and local judges. Together, attendees and judges will crown the "Prince of Porc," who will go on to compete for the title of "Grand Cochon" against regional winners from across the country at the Food & Wine Classic in Aspen later this month.

This year, the competing SF chefs include David Varley of Michael Mina SF, Ravi Kapur of Prospect, Brandon Jew and Salvatore Cracco of Bar Agricole, Matthew Accarrino of SPQR and David Bazirgan of Fifth Floor Restaurant, and the event will take place in the Julia Morgan Ballroom at the Merchants Exchange Building. The competition is particularly fierce this year as Varley, the Grand Cochon 2010 who recently decamped here from DC, is vying for another trophy and the label of Prince on Porc of two coasts.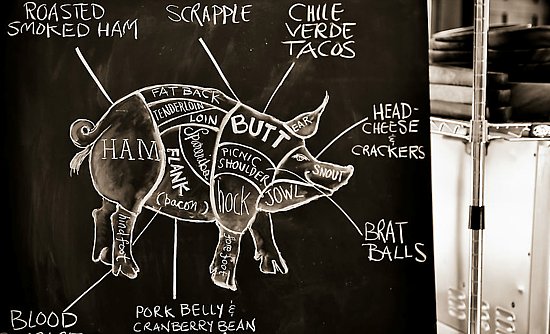 Guests will dine on roasted heritage breed pigs (and dessert!) and taste wines from five small wineries. For those pork-lovers interested in anatomy, there will also be demonstrations on pig breakdown to tune in to. Want to go hog wild? Tickets are $125 per person for general admission and $200 for VIP, which includes a private reserve wine tasting from seven other wineries, a sampling of artisan cheeses, a sustainable oyster station, craft brew from Magnolia Brewery, St. Germain cocktails, and jars of heritage bacon. This little piggie's going to market, too, so I'll see ya there!